Warehouse Delivery Driver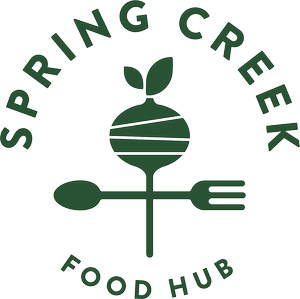 Spring Creek Food Hub
Product, Operations, Quality Assurance · Part-time
Springdale, AR, USA
Posted on Thursday, November 9, 2023
SPRING CREEK FOOD HUB DESCRIPTION
An emerging local food system non-profit serving the Northwest Arkansas region seeks an energetic and experienced Warehouse Delivery Driver to support the organization within the warehouse and delivery team. Spring Creek Food Hub works to increase access to local products through aggregation and distribution to wholesale markets and directly to community members, educates farmers and buyers, and improves economic, environmental, and community health of our region's food system.
JOB DESCRIPTION
As part of our warehouse and delivery team, you will use hand trucks, manual and electric pallet jacks to load and unload delivery vehicles and drive vehicles to delivery locations. You will accurately keep records of all inventories both received and delivered and observe safe workplace rules and guidelines when unloading and transporting cargo. This is a physically demanding position, meaning our ideal candidate can lift and move heavy containers, in addition to possessing a valid driver's license and experience with warehouse inventory management.
Responsibilities
• Deliver produce and local foods to various locations in NW Arkansas with a refrigerated box truck. CDL is NOT necessary but must be able to pass DOT test and have a clean driving record. The driver must be able to climb and descend from the truck repeatedly during the day, load and unload cases of product, operate a lift-gate and a pallet jack.
• Provide excellent service while picking up and delivering products, have a professional attitude and presentation.
• Handle Purchase Orders and Customer Invoices appropriately, count cases, match to documentation – attention to details is necessary.
• Load and unload trucks manually or with a pallet jack.
• Respect food safety rules, check for and document safe conditions.
• Drive safely and maintain equipment in excellent condition and cleanliness.
• Begin and end each truck run with established procedures.
• Communicate all pickups, deliveries, and service issues with the warehouse manager.
• Maintain truck logs.
Required Qualifications
• At least 1 year of truck driving experience with a clean driving record and pass DOT test.
• Ability to drive 16-foot refrigerated box truck
• Knowledge of Northwest Arkansas area
• Normal work weeks are Monday through Friday with a summer busy season that might require long working days, or exceptionally Saturdays. Some flexibility on the work schedule is necessary.
• Ability to lift at least 50 lbs., be able to stand, bend, crouch, climb into the truck and be physically active during the entire day.
• Knowledge of produce or grocery business is a plus.
Salary and benefits are competitive and commensurate with similar positions nationally.
APPLICATION INSTRUCTIONS
Please send a resume and cover letter to info@springcreekfoodhub.org with the title of the position in the subject line. Applications will be considered as they are received and until the position is filled.
We are an Equal Opportunity Employer. Employment practices shall not be influenced or unlawfully affected by virtue of any applicant's race, color, religion, sex (including pregnancy, sexual orientation, or gender identity), national origin, age (40 or older), disability and genetic information (including family medical history), as defined by the EEOC.
Spring Creek Food Hub is an equal opportunity employer.